ALT Battery Heated Gloves
ALT Battery Heated Gloves
or 4 payments of AUD62.25 with
Venture Heat 7V ALT Battery Heated Gloves are designed for the person who needs a little help staying warm. Perfect for many uses such as the motorcycle, skiing or everyday use, our next-generation heated glove has the same features as the previous Epic 2.0 Gloves, but with a tighter and more lightweight fit for improved grip and mobility. plus the index finger and thumb are touchscreen friendly which allows easy access and complete control for touchscreen devices.
The ultra-thin micro-alloy heating panels extend from the back of the hand down to each fingertip, warming the entire hand for hours. To keep hands even warmer, the gloves are both water and windproof. These battery heated gloves feature a nubuck leather palm which is less bulky and provides optimal grip and control.
The gloves come with two BX-26 batteries and Australian/NZ 110-240V charger included.
The Venture Heat ALT Battery Heated Gloves are a great solution to keep those hands and fingers warm this winter.   Your fingers and toes are usually the first part of your body to lose body temperature which causes the rest of your body to follow so it's important to keep them warm.  Normal gloves rely on your own body heat to keep the generating warmth but when this disappears then there is no coming back.  Venture Heat's rechargeable electric gloves fix this by adding a carbon fiber heating element directly to your fingers and hands which means you can bring your body temperature up without having to find a warm indoor heater.  You can stay comfortable in all conditions without ruining your activities.
They warm heat gloves come with battery and charger included as well as a windproof/waterproof liner to keep the conditions out and trap the heat in.  The thin layer of Thinsulate also adds to the warmth and absorbs the heat.  These are the ultimate winter glove that is at the top end of quality.
Eliminate cold hands.
Heating times with included BX-26 Battery
2 Hours – High
3.5 Hours – Medium
5+ Hours – Low
They BX-26 batteries sit in the cuff of the glove and spare batteries are sold as singular and can be purchased from here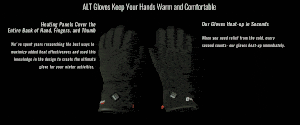 Battery Accessories, Venture Heat

Two Venture Heat BX-26 Lithium Battery. For use with: - ALT Battery Heated Gloves - OHM Battery Heated Mittens Please contact us if you would like to purchase as a single battery.

AUD

104.00
You haven't viewed any products yet.
Specifications
| | |
| --- | --- |
| Heating Elements | Back of Hand to Fingertips |
| Heat Settings | Low, Medium, High |
| Power System | Rechargeable Lithium-ion Battery |
| Rechargeable Battery | BX26, 1,800mAh (two) |
| Voltage | 7.4 V |
| Exterior Fabric | Ultra Suede |
| Lining | 100% Polyester |
| Palm | Nubuck Leather |
| Insulation | 3M Thinsulate |
| Waterproof Membrane | Dintex |
| Style | Heated Gloves |
Q: Are the battery included?
A: Yes.  The batteries and charger are included
Q: What are the heating times?
A: 2 Hours High, 3.5 Hours Medium and up to 5+ hours on low
Q: Are the gloves waterproof?
A: Yes. They have a windproof/waterproof breathable liner.
Q: What are they used for?
A: They are a multipurpose heated glove.  They are very popular with motorcyclists as well as snow lovers, raynauds sufferers, cyclists, campers, workers or just everyday use.
The heating elements are carefully positioned on top of each of your fingers to allow the heat to be circulated throughout your hand for complete comfort and warmth which gives your hands the protection they need. With sophisticated IC design and UL certification along with extensive product testing, our garment has gone through the most rigorous standards to ensure your complete safety. Genuine leather provides unparalleled comfort and durability. A 100g 3M Thinsulate liner adds additional warmth and insulation while a weatherproof shell and breathable waterproof lining keep your hands dry.
Additional information
| | |
| --- | --- |
| Weight | .49 kg |
| Dimensions | 22 × 10 × 4 cm |
| size | Large, Medium, Small, X Large, X Small, XX Large |