Men's Heated Puffer Vest
Men's Heated Puffer Vest
or 4 payments of $51.25 with
The Venture Heat Men's Battery Heated Puffer Vest is the perfect solution for warmth and versatility this winter. With the ability to be used as its own stylish vest or thin enough to fit under any jacket or motorcycle jacket, the option is your to what you want to use this vest for.
The rechargeable electric vest heating elements are located in the back and front to warm your core, and the nylon outer shell works to block the wind and rain as well as being able to compress under any outer garment.
This vest extremely well made and the carbon fiber heating elements make it stand out. The perfect vest for the motorbike, work, play, camping or every day staying warm. It's a great piece of technology.
The stylish Venture Heat USB Men's Heated Puffer Vest is designed for everyday use and built to withstand the most extreme conditions.
The exterior shell is a Rip-stop Nylon with 100* gram of Thinsulate insulation.  To take the men's puffer vest to the next level, there is an added weather-repellent coating, making it both wind and water resistant. Plus, the cinch cords on the waist traps the heat around the core.
It's powered by any rechargeable 2Amp 10,000mAh power bank battery which can last around 12 hours on low or 4 hours on high.  The vest state of the art carbon fiber heating elements, which replaces copper and has a built-in power button that allows you to scroll through the 3 settings to keep you comfortable as the conditions change around you.
There is no need to layer up or be uncomfortable in the cold any more thanks to Venture Heat's battery powered clothing.  You can take your electric heater where ever you go or simply wear it around the home to keep the heating bills down.  This rechargeable electric vest is an industry leader.
Heating times with the sold separately  10,000mAh battery.
4 Hours – High
7 Hours – Medium
12 Hours – Low
The USB Power Bank pocket is a strategically designed pocket located on the back left hip which is virtually unnoticeable. *USB Power Bank is sold separately* Feel free to use your own or order one from us. Must be 2.0Amp with at least 10,000mAh.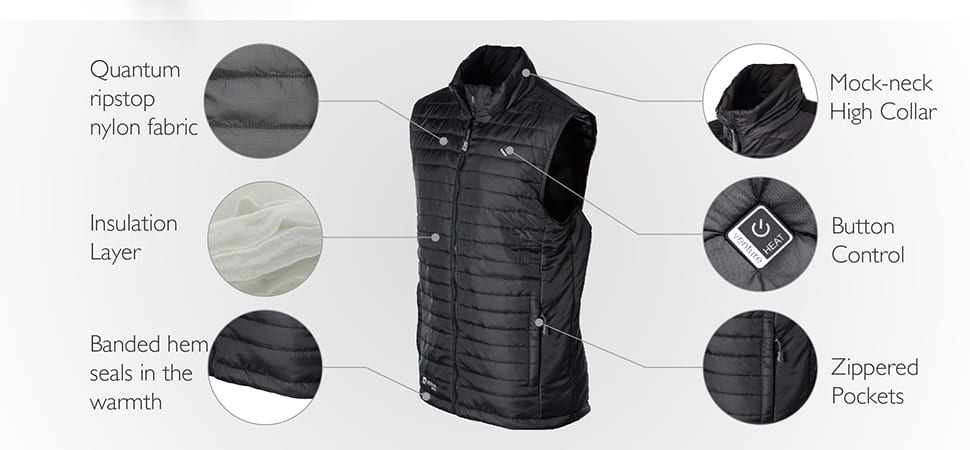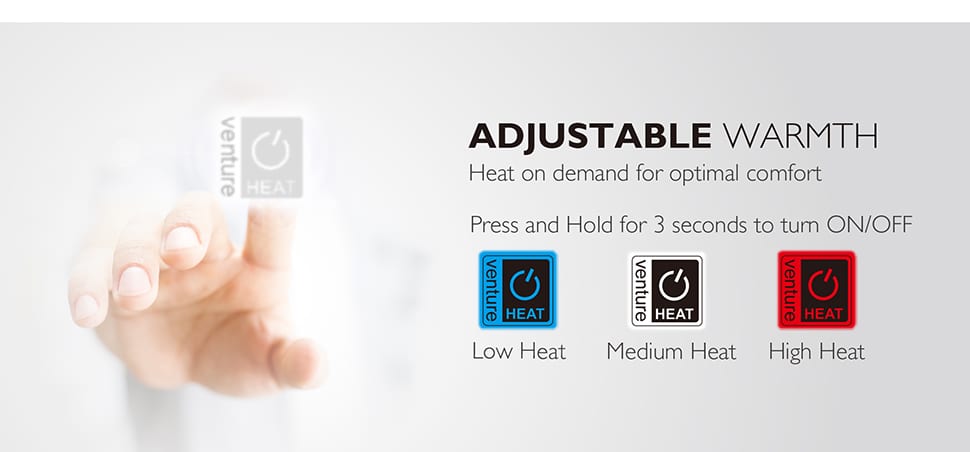 Battery Accessories, Therapy Accessories, Venture Heat

The ZBP10400 USB Power Bank Battery 10400mAh can provide more than 3x charging for your smartphone and/or up to 12 hours of heating time in VENTURE HEAT's 5 Volt heated clothing. Note: Charge the battery by plug-in the included micro USB cable into your computer USB port or use the USB charging adaptor come with your smartphone. BTW: Battery sold with 6 months Manufacturer Warranty.

$

45.00
You haven't viewed any products yet.
Specifications
Power system
5V USB Bank Rechargeable Lithium-ion Battery
Heating Elements
1 on the back, 2 on each front chest
Heat Settings
Low, Medium, High
Rechargeable Battery
10400mAh, 5V USB Power Bank, output 2.1A
Not Included
Exterior Fabric
100% Quilted Nylon Micro Rip-Stop
Lining
100% Polyester
Gender
Men
Q: Is the battery included?
A: No, the battery is sold separately.  You can use your existing one of purchase one from us.
Q: What are the heating times?
A: 4 Hours High, 7 Hours Medium and up to 12 hours on low
Q: Can the vest be washed?
A: Yes.  Please follow the washing instructions that come included.
Q: Can the power bank be charged anywhere?
A: Anywhere a USB point can be found.
Q: Is there a warranty?
A: Yes, 1 year on the clothing and 6 months on the batteries.
Additional information
| | |
| --- | --- |
| size | Large, Medium, Small, X Large, X Small, XX Large |