Infrared Heat Therapy 8-IN-1 Electric Wrap
Infrared Heat Therapy 8-IN-1 Electric Wrap
or 4 payments of $34.75 with
The Venture Heat Infrared Electric 8in1 Heated Therapy Wrap is the perfect companion to relieve muscle and joint pain on all parts of the body.
Its flexibility is a great feature as well as its industry-leading carbon fiber heating elements that penetrate deep into the muscles and joints to emit infrared rays, like that of the sun. This portable wrap is one you can take anywhere you go. It 3 setting power system allows you consistent heat.
Relief from muscle and joint pain!
In stock
After a long day of work, play, or after surgery, unwind and heal faster with the Venture Heat Far Infrared Ray (F.I.R.) heat therapy wrap for all of your muscle and joint aches and pains. Soothe all of your sore spots, and improve your quality of life with the Venture Heat Infrared Electric 8in1 Heated Therapy Wrap. Designed to provide quick, deep tissue therapeutic relief to all of your body's discomforts, and works well on the following areas of the body: ankles, thighs, lower back, elbows, knees, neck, shoulders, and upper back.
As the innovative groundbreaker of portable F.I.R. heat therapy, Venture Heat® has created the latest technology featuring therapeutic heat with a safe, low-voltage heating system that enables a nearly instant pain relief experience without prescription medication. If you are ready for soothing relief from your aches and pains, this wrap is ideal for sprains, joint strains, sore muscles, repetitive strain, muscle spasms, arthritis, rheumatoid arthritis, tendonitis, fibromyalgia, Crohn's disease, spondylitis, muscle aches, and menstrual cramps and pain. Plus, it aids with muscular relaxation, increased blood flow, and accelerated healing.
This heated wrap is designed to be used just about anywhere (in the home, the car, or on-the-go) and can be powered in three different ways using common methods that you may already own:
Use a 5V, 2.0 Amp (or higher) USB Power Bank (Order a Venture Heat USB power bank here.)
Plug into wall socket with 2.0 Amp or higher USB wall charger (like those used for a tablet)
Use the 12V (cigarette lighter) in your car to plug in an adapter with a 2.0 Amp or higher output USB port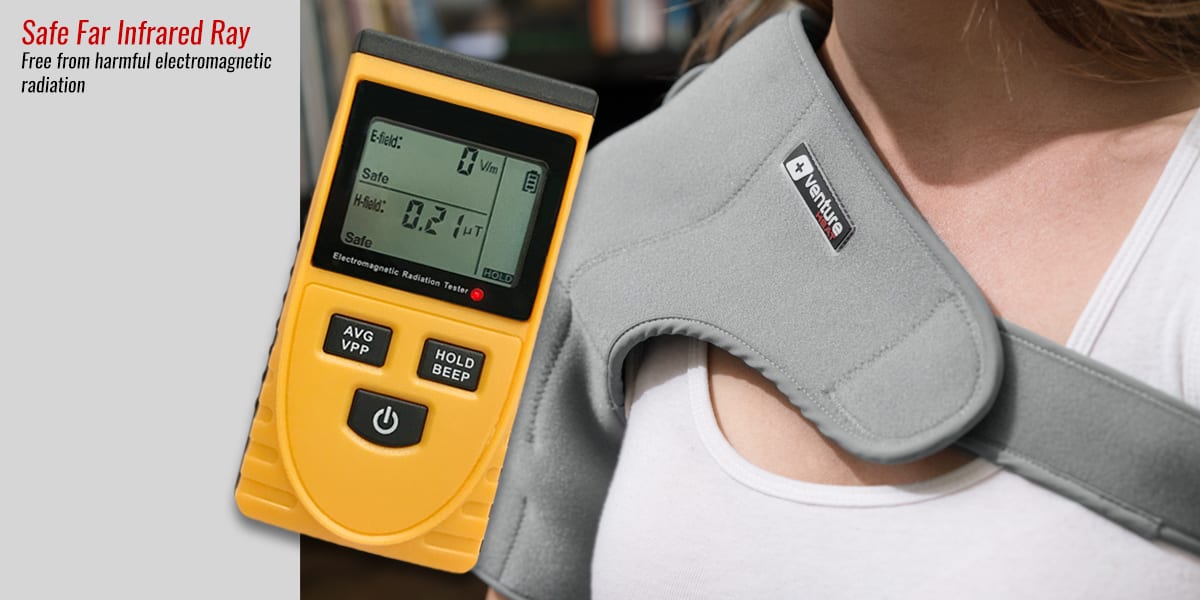 Battery Accessories, Therapy Accessories, Venture Heat

The ZBP10400 USB Power Bank Battery 10400mAh can provide more than 3x charging for your smartphone and/or up to 12 hours of heating time in VENTURE HEAT's 5 Volt heated clothing. Note: Charge the battery by plug-in the included micro USB cable into your computer USB port or use the USB charging adaptor come with your smartphone. BTW: Battery sold with 6 months Manufacturer Warranty.

$

40.91
Specifications
| | |
| --- | --- |
| Heating Elements | 1 FIR large flex-panel |
| Heat Settings | Low, Medium, High, Max |
| Power System | Plug in at home |
| Gender | Unisex |
| Lining | Brushed Fleece |
| (S/M) | up to 40.6" |
| (L/XL) | up to 46.9" |
| (2XL/3XL) | up to 53.1" |
FREQUENTLY ASKED
VENTURE HEAT LIMITED WARRANTY

VENTURE HEAT warrants to our customers of the heated electronic component free from manufacturing defect for ONE (1) YEAR and a period of SIX (6) MONTHS for the lithium-ion batteryfrom the initial date of purchase from an authorized VENTURE HEAT dealer.
This warranty is non-transferable and proof of purchase from us or an authorized dealer is required for warranty service. Damage to the heating system and parts resulting from accidental fire, flood, misuse, unauthorized service or negligence as outlined herein will void the warranty. Warranty does not cover commercial use.
Wear & tear of the garment, such as fabric, zippers and other accessories are not covered under this warranty. Under no circumstances will VENTURE HEAT or the manufacturer be liable for incidental, consequential, or punitive damages (including water damage) resulting from the product, whether or not the product is found to be covered by this warranty.
FAQ

1. How do I take care of my battery?
For continued performance, the battery must be fully charged before use, storage, and once every 3 months of storage thereafter.
2. What is the best way to clean my heated clothing?
Remove the battery, hand wash or machine wash( in washing bag) in cold water. Do not twist or wring. Hang dry only.
3.  How long will the battery last while in use?
Normally(20℃/68℉), the battery will last approximately 6-8 hours on low, 4-5 hours on medium, or 2-3 hours on high.
4. What affect the working hours?
The temperature of operational environment, the heating level you select.
5.  How long will my battery take to fully charge?
From empty, the battery will take roughly 8 hours to fully charge.
6. What style should I pick?
We have Jackets/Hoodie/Down Vest/Inner Vest.
Men Jacket: Detachable hood. Winner of wind-proof& water resistance.
Women Jacket: Detachable hood( 2017 New style). Slim fit,  wind-proof& water resistance.
Hoodie: Fashion and unisex style. (To determine women's size, please scale down 1 size)
Down Vest: 4 heat panels, extra 1 around the neck.  Winner of heating result.
Inner/Bottom Vest: Deep V cutting,  invisible and firm-fitting patterns and sizing to fit snugly and easily under outer jacket.
Additional information
| | |
| --- | --- |
| Weight | .49 kg |
| Dimensions | 7 × 4 × 2 cm |
| size | Large, Max, Medium, Regular, Small, X Large |